We would achieve nothing without our clients' vision and support. Many are longstanding and we thank them all. We have selected old and new clients in England and Wales to demonstrate the range of organisations and their geographical location. The map shows the location or central point of some of our projects and studies.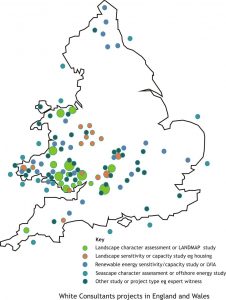 Our clients include:
Arup
Aylesbury Vale District Council
BEIS                                      
Brecon Beacon NPA
Bridgend CB Council
Brudenell Estate
Caerphilly CB Council
Cambrian Mountains Initiative Carmarthenshire  Council
CDN Planning
Ceredigion Council
City and County of Cardiff
City and County of Swansea
City of Newport
Conwy CB Council                Cotswold District Council
Dartmoor National Park 
Denbighshire County Council
DPP
Dursley Town Council
East Suffolk Council           Exeter City Council
F3
Gower AONB Partnership    Hartley Anderson
Haskoning UK Ltd
Leekes
Lichfield District Council          Malvern Hills District Council  Marine Management Organisation        
Merthyr Tydfil CB Council            Mole Valley Farmers  Monmouthshire County Council
Natural England
Natural Resources Wales
Neath Port Talbot CB Council 
Northumberland County Council 
NE Regional Assembly (former)
North Somerset Council
Pembrokeshire Coast NPA
Pembrokeshire Council
Powys County Council
Rhondda Cynon Taf Council
RNLI (Trading) Ltd
Rugby Borough Council
Sheepdrove Organic Farm 
Shropshire Council
South Staffordshire Council
Stratford-on-Avon DC
Stroud District Council
Suffolk County Council    Telford and Wrekin Council
Thame Farmers Ltd
URS Corporation
Vale of Glamorgan Council
Welsh Government
West Sussex County Council  Wychavon District Council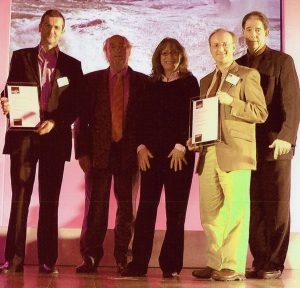 Collecting the Landscape Institute Landscape Planning Award for our Welsh Seascapes study. Simon is on the left and second from right is John Briggs, our client, now of Natural Resources Wales. The guy on the right also looks familiar.
Client survey 2017
90% are very satisfied with our service
66% say that the work is very high quality, 33% say high quality
50% say that we are extremely responsive, 50% say very responsive
66% say they are extremely likely to use our services again